The SAT cooling system includes SAT paper pad, frame work and water recycling system, etc.
The SAT is the core of cooling system. It is made of corrugated paper with special technique processing, which possesses the traits of corroding-resistant, higher wet strength and long working life etc.
Efficiency

The SAT pad is designed to provide maximum contact surface between air and water (approximately 450m2/m3 for Pad 790 and 680m2/m3 for Pad 590). Such massive surface enables an optimum cooling and humidification effect from evaporation.

Freshness

The SAT pad acts as a natural filter that purifies inlet air. Carefully designed flute angle directs water towards both the air inlet and outlet side; the water then intrinsically flushes away dust, algae and mineral built up on the evaporative surfaces.

Durability

The SAT pad is made of special cellulose paper impregnated with insoluble chemical compounds to preserve its long working life in your system.

Toughness

The SAT pad, with proper water bleed-off and regular brushing, can be used in imperfect water and air conditions.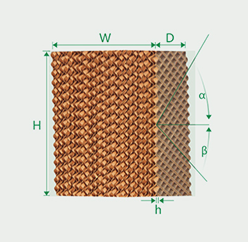 H: Pad height W: Pad width D: Pad Depth
h: Pad corrugation height
α: corrugated sheet angel A
β: corrugated sheet angel B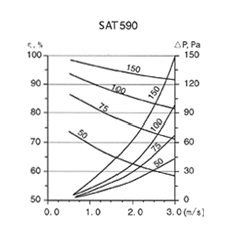 Download
To ensure the efficient and stable operation of the SAT cooling system, SAT company has developed both the aluminum alloy and the galvanized iron rolling frame work accordingly.
| type | pad depth | applied place suggestied |
| --- | --- | --- |
| aluminum alloy frame work | 100mm/150mm | greenhouse |
| galvanized iron rolling frame work | 100mm/150mm | greenhouse or breedinghouse |
Note: Please order respectively as per your special requirement.
To make the SAT cooling system operated in economic and stable way, the SAT company provides the water recycling system which is easy in management and maintenance.
water pipes and spare parts
clear filter
Diving pumps with different standards